For my third and final conference this summer, I gave a talk entitled "Nature as Theophany: Considering Eriugena's Influence on Coleridge's Imagination."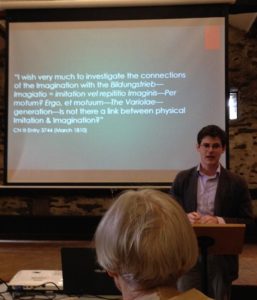 My paper emphasized an important connection between Coleridge's imagination and Johannes Scotus Eriugena. In March 1810, Coleridge records in his notebook an early sketch of what would later be published in the Biographia Literaria. He writes, "I wish very much to investigate the connections of the Imagination with the Bildungstrieb—Imagiatio = imitation vel repititio Imaginis—Per motum? Ergo, et motuum—The Variolae—generation—Is not there a link between physical Imitation & Imagination?"" (CN III Entry 3744). The formula is a condensed reflection on imagination and imaginative repetition, and in context, we can read Coleridge's "primary Imagination," the "repetition in the infinite mind of the eternal act of creation in the infinite I AM," as a more developed elaboration of Eriugena's concept of theophany, and the human mind as something that is created and creates. By the year this entry had been written, seven years before the publication of the Biographia Literaria, Coleridge was already exploring Eriugena's understanding of nature in relation to imagination. In addition, this paper focused on the implications of Coleridge's understanding of the natural world in relation to Eriugena's pantheistic theophany, and how Coleridge reconciled this to Christian orthodoxy with his theory of imagination in the Biographia. I also examined how his relation to Eriugena developed over the three stages of Coleridge's life ,as described by Thomas McFarland: his early and poetic intuitions that the phenomenal world and the spirit are interconnected, his middle years of searching for a philosophical system that united and expressed the unity of these two worlds, and his final years in which he relies more on systems religious orthodoxy.
The conference took place at Rydal Hall in the Lake District. The hall, once owned by Wordsworth's landlady, Lady Le Fleming, stands near the house where Wordsworth had lived since 1813 to his death in 1850. We were tucked away in the Cumbrian mountains for two weeks, spending the days immersed in "Wordsworthshire," attending talks, hiking the mountains, and getting to know the community of Romantic scholars. Here are some photos of the countryside from some hikes.